Day 2!

Thankfully, parking was not nearly as bad on Saturday.  We got in early enough to catch Old Crow Medicine Show bring some old-timey folk and bluegrass to the main stage.
After that, it was over to the Sahara to see Craze & Klever drop some beats and rock the turntables.  The DJ Kool > Bloody Beetroots drop was way cool.
The crowd for Edward Sharpe and the Magnetic Zeros was huge, so we wandered over to the Mojave to get down with Gossip.
Back to the Sahara for some Bassnectar.  I'll just say, Bassnectar in the Sahara is quite a different experience than Bassnectar in Bozeman, MT.  He played some tracks I missed before including Churn of the Century and even some Metallica.
We then watched, but couldn't hear (thanks Do-Lab), Faith No More on the main stage while grabbing a bite to eat, and it was time for MGMT.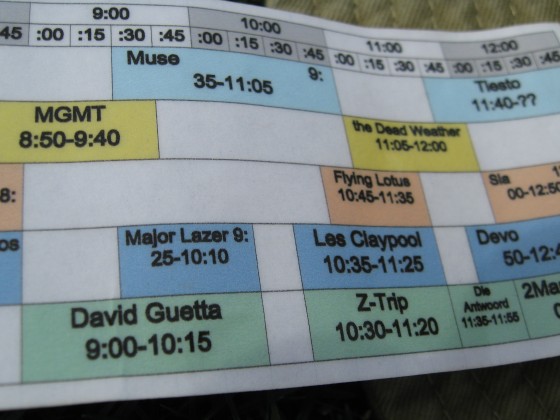 I'd heard people say MGMT just isn't that good live, so I was curious to see what they would do with their new material, and how the fans would react.
Due to the enormous crowd, I had to rely on the video screens to see what was happening on stage.  I think everyone agreed they should have played the main stage.
They kicked things off with Flash Delirium which sounded great, but there was one problem.  The crowd.  It was a  younger crowd, and maybe it was their first concert or something, but there was no dancing, no jumping, and barely any applause.  With a crowd that huge, having dead air in between songs is just wrong.  My hunch that most of this crowd hadn't even bothered to listen to the new album was confirmed when, after Flash Delirium, I yelled "I don't think anyone knew that song!", and a kid turns around and says "Yeah, play what we know, right?".  I'm pretty sure he wasn't being sarcastic.
I didn't stick around long enough to see how upset they'd be when MGMT didn't play Kids, I needed to get a good spot for Muse.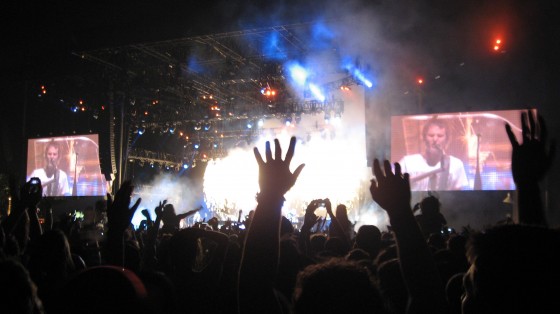 As expected, Muse's epic sound was a perfect fit for the Coachella main stage.  The huge lasers and spark showers gave songs like Uprising, Starlight, and United States of Eurasia an extra punch.
After a good hour of Muse, I realized I wouldn't be able to live with myself if I missed Les Claypool, so it was off to the Mojave tent.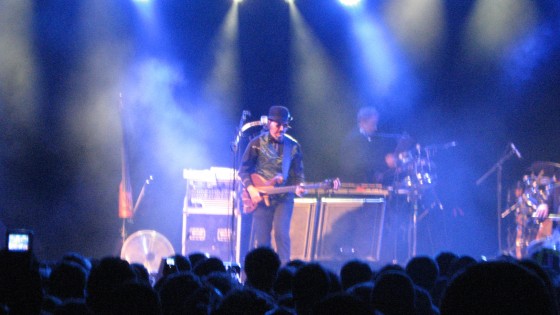 Les, who we saw signing autographs earlier, had a relatively small but dedicated crowd who were way into his songs.  The crowd can make all the difference, and Les was putting on a great show for people who really cared.
Next was my wildcard, Die Antwoord.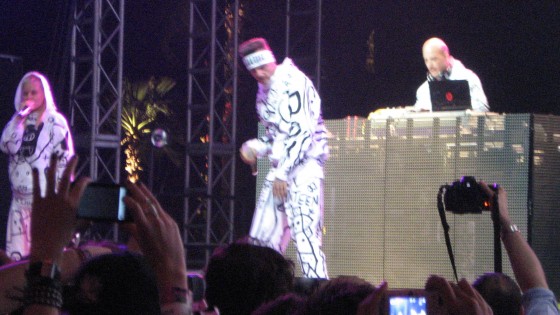 They might be a parody act, but as stage performers, Ninja and Yo-Landi are the real deal.  DJ Hi-Tek missed the beat drop on Enter the Ninja twice, but it was probably part of the act.  This was a really fun show.  It seemed to catch everyone off guard in a good way.  Die Antwoord may loose some (or all) of their appeal once they hit the mainstream, but I can't wait to see what they do next.
Devo then closed the Mojave with a good mix of old and new songs.  Despite their age, these guys had a ton of energy and their new material actually sounds really good.  I'll be picking up their new album for sure.
End Saturday!