I remember hearing tales of how epic the Middle-earth collectible card game was way back when my local Star Wars CCG scene was still active. As a Tolkien nerd, I'd always wanted to try it out, but… one does not simply play a dead CCG.
Then back in April, Team Covenant streamed a six hour learning game of MECCG.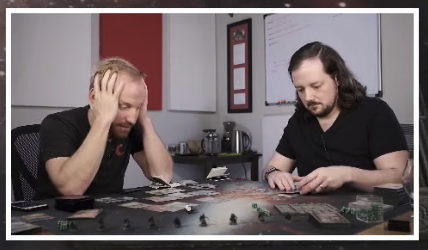 I was super impressed with just how well it represents Tolkien's world in game form. Much like the Star Wars CCG, lore and storytelling drive the game design. They are prioritized above all else, including mechanics and probably balance – something you don't really see in modern games.
I mean, the game essentially requires a detailed map of middle-earth in front of you to truly appreciate the scope and possibilities of what you can do.
Open world, solo mode
Later in the year, Zach shared his rules for an open world, solo mode of the game. This variant re-works the game into a fun solo experience that seemed like the perfect way to finally try it for myself.
So, I finally picked up the pre-constructed challenge decks (surprisingly still available from a player-run web store), printed a custom map playmat (Inked Gaming), and started building hazard decks for open world mode.
Hazard decks
My decks were built with the challenge deck cards I had, along with a few singles thrown in to make things more interesting.
There is room for improvement no doubt, but these should be a good starting point for anyone with a limited card pool to get started with the amazing open world solo variant!
Wilderness (28)

Creature (14)
1 "Bert" - Bûrat
1 "Tom" - Tûma
1 "William" - Wûluag
1 Dire Wolves
1 Ent in Search of the Entwives
1 Giant
1 Giant Spiders
1 Hobgoblins
1 Huorn
1 Lawless Men
1 Lesser Spiders
1 Thunder's Companion
1 Wargs
1 Wolves

Long-event (2)
1 Long Winter
1 Scatha Ahunt

Permanent-event (5)
1 Despair of the Heart
1 Full of Froth and Rage
1 Lure of Expedience
2 Lure of Nature

Short-event (7)
1 Call of Home
1 Dragon-sickness
1 Lost in the Wilderness
1 River
1 The Ring's Betrayal
1 Veils Flung Away
1 Weariness of the Heart
Coastal Seas (14)

Creature (7)
3  Corsairs of Umbar 
1  Marsh-drake 
1  Rain-drake 
1  Sea Serpent
1  Watcher in the Water 

Long-event (1)
1  Eärcaraxë Ahunt 

Permanent-event (2)
1  Despair of the Heart 
1  Lure of Expedience 

Short-event (4)
1  Call of the Sea
1  Dragon-sickness 
1  Drowning Seas
1  Muster Disperses 
Ruins & Lairs (22)

Creature (11)
1  Cave-drake 
1  Chill Douser 
1  Land-drake 
1  Lesser Spiders 
1  Light-drake 
1  Neeker-breekers 
1  Orc-raiders 
1  Orc-warriors 
1  Stirring Bones 
1  Wild Trolls 
1  Wisp of Pale Sheen 

Long-event (2)
1  Minions Stir 
1  Plague of Wights 

Permanent-event (1)
1  Lure of Expedience 

Short-event (8)
1  Arouse Denizens 
1  Call of Home 
1  Chance of Being Lost 
1  Choking Shadows 
1  Greed 
1  Incite Denizens 
1  Muster Disperses 
1  Weariness of the Heart 
Free-domains (16)

Creature (7)
4  Ambusher 
2  Ent in Search of the Entwives 
1  The Border-watch 

Permanent-event (7)
1  Alone and Unadvised 
1  Foolish Words 
1  Lure of Expedience 
1  Lure of the Senses 
1  Rank upon Rank 
1  Rebel-talk 
1  Stormcrow 

Short-event (2)
1  Lost in Free-domains 
1  Muster Disperses 
Free-holds (14)

Creature (2)
2  The Border-watch 

Long-event (1)
1  Times Are Evil 

Permanent-event (7)
1  Alone and Unadvised 
1  Foolish Words 
1  Lure of Creation 
1  Lure of Expedience 
1  Lure of the Senses 
1  Rebel-talk 
1  The Burden of Time 

Short-event (4)
1  Call of Home 
1  Incite Defenders 
1  Muster Disperses 
1  New Moon 
Border-lands (24)

Creature (12)
1  Abductor 
1  Ambusher 
1  Brigands 
1  Crebain 
1  Lawless Men 
1  Neeker-breekers 
1  Orc-raiders 
1  Orc-warriors 
1  Slayer 
2  Wargs 
1  Wolves 

Long-event (1)
1  Scorba Ahunt 

Permanent-event (6)
1  Alone and Unadvised 
1  Foolish Words 
1  Longing for the West 
1  Lure of Expedience 
1  Rank upon Rank 
1  Rebel-talk 

Short-event (5)
1  Call of Home 
1  Chance of Being Lost 
1  Lost in Border-lands 
1  River 
1  Weariness of the Heart 
Border-holds (17)

Creature (6)
1  Assassin 
2  Sellswords Between Charters 
2  Slayer 
1  The Border-watch 

Long-event (1)
1  Fell Winter 

Permanent-event (5)
1  Alone and Unadvised 
1  Foolish Words 
1  Lure of Expedience 
1  Rank upon Rank 
1  Rebel-talk 

Short-event (5)
1  Greed 
1  Incite Defenders 
1  Muster Disperses 
1  River 
1  Weariness of the Heart 
Shadow-lands (25)

Creature (15)
1  Barrow-wight 
1  Corpse-candle 
1  Dire Wolves 
1  Ghosts 
1  Ghouls 
1  Half-trolls of Far Harad 
1  Lawless Men 
1  Lesser Spiders 
1  Marsh-drake 
1  Orc-lieutenant 
1  Orc-patrol 
1  Orc-watch 
1  Stirring Bones 
1  Wargs 
1  Wisp of Pale Sheen 

Long-event (4)
1  Bairanax Ahunt 
1  Foul Fumes 
1  Plague of Wights 
1  Worn and Famished 

Permanent-event (3)
1  Despair of the Heart 
1  Stench of Mordor 
1  The Moon Is Dead 

Short-event (3)
1  Dragon-sickness 
1  Lost in Shadow-lands 
1  Seized by Terror 
Shadow-holds (22)

Creature (14)
1  Barrow-wight 
1  Chill Douser 
1  Corpse-candle 
1  Crebain 
1  Ghosts 
1  Ghouls 
1  Half-trolls of Far Harad 
1  Little Snuffler 
1  Orc-lieutenant 
1  Orc-patrol 
1  Pûkel-men 
1  Sellswords Between Charters 
1  Stirring Bones 
1  Wisp of Pale Sheen 

Long-event (1)
1  Plague of Wights 

Permanent-event (3)
1  Foolish Words 
1  Nothing to Eat or Drink 
1  The Moon Is Dead 

Short-event (4)
1  Arouse Minions 
1  Stay Her Appetite 
1  Tidings of Bold Spies 
1  Weariness of the Heart 
Dark-domains (20)

Creature (11)
1  Barrow-wight 
1  Corpse-candle 
1  Ghosts 
1  Ghouls 
1  Half-trolls of Far Harad 
1  Orc-guard 
1  Orc-lieutenant 
1  Orc-patrol 
1  Orc-warband 
1  Orc-watch 
1  Stirring Bones 

Creature/Permanent-event (2)
1  Dwar of Waw 
1  Hoarmûrath of Dír 

Long-event (4)
1  Foul Fumes 
1  Itangast Ahunt 
1  Minions Stir 
1  Worn and Famished 

Permanent-event (1)
1  Stench of Mordor 

Short-event (2)
1  Call of Home 
1  Seized by Terror 
Dark-holds (15)

Creature (9)
1  Barrow-wight 
1  Corpse-candle 
1  Ghosts 
1  Half-trolls of Far Harad 
1  Olog-hai - Trolls 
1  Orc-patrol 
1  Orc-warband 
1  Orc-watch 
1  The Great Goblin 

Creature/Permanent-event (3)
1  Akhôrahil 
1  Indûr Dawndeath 
1  Witch-king of Angmar 

Long-event (1)
1  Minions Stir 

Permanent-event (1)
1  Nothing to Eat or Drink 

Short-event (1)
1  Arouse Minions